---
November 8, 2017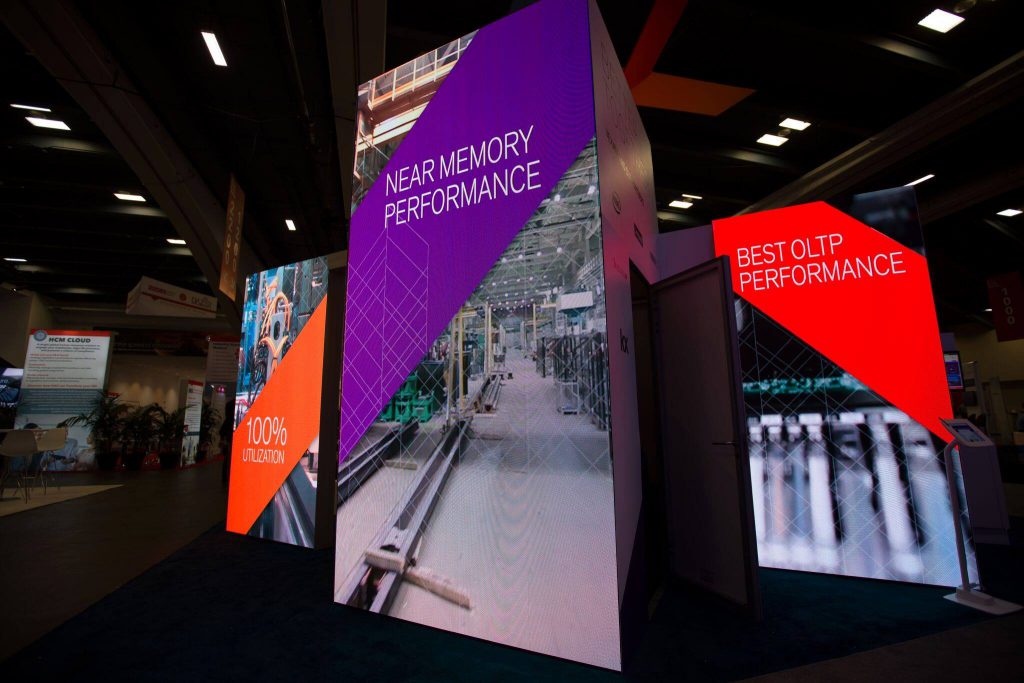 SAN FRANCISCO, CA – There is an elegant simplicity to Oracle software, a fluidity of design that makes even the most complex computing tasks appear seamless and natural. This almost magical quality was very much in evidence in early October at the Oracle Open World conference in the new products unveiled by the host company. It was also on display in a booth set up by one of the conference's vendors, Vexata, where a dynamic social media-connected video wall blended effortlessly into its surroundings with help from some CHAUVET Professional F3 LED panels.
"Basically, we wanted to have a video wall that didn't look like a video wall," said Austin Jansen of Digital Dynamite Productions, which provided the audio and video for the booth. "Our challenge was to find an LED panel that had a minimal footprint and one that hid the rigging and rear of the display. The LED video display had to look as though it was part of a large graphic, so visitors could not tell it was really an LED wall."
Jansen accomplished this goal in beautiful fashion by mounting 68 F3 LED tiles on plywood panels. "The panels were positioned on six separate surfaces that we custom built out of birch plywood and covered with vinyl graphics to hide the rear of the display," he explained. "The F3 panels were perfect for this job, because they're serviceable from the front. This allowed us to mount the panel cabinet frame directly to a substrate and wire the LED wall from the front. By doing this, we were able to have minimal clearance behind the LED wall, which created the feeling of the panels being part of the overall graphical display."
Arranged at irregular angles to one another, the board-mounted panels created a flowing multi-dimensional look at the Vexata booth, giving it an inviting sense of warmth and depth. By changing the configurations of the activated LED modules on the panels, the company was able to create entirely different looks at its booth at different times during the conference.
Vexata used the video walls to display branding images and marketing messages geared toward the conference. At times the wall was also used for a social media posting game that had a countdown timer. Regardless of content, the images displayed on the panels stood out, thanks to the F3 unit's 3.9 mm pixel pitch and the realistic colors rendered by its RGB SMD LEDs.
With no wires or hanging apparatus showing, the images displayed by the panels looked like an organic part of the booth, making them even more engaging. At a conference filled with high-tech wonders, the LED display at the Vexata booth stood out as a crowd pleaser with the 60,000 attendees.
"Our client was really thrilled with the reaction to the video wall," said Jansen. "At the end of the day, pleasing our client is the most important part of what we do. On a personal level, it was really nice to see a cool concept like this video wall come to life and work so well."